Over 66% of all music listening within the US is now of catalog data, quite than new releases
In the first six months of 2021, there were 555.3 billion music streams on audio and video platforms in the US – 54.3 billion more than in the previous year.
But the bigger story for the US music industry is less about how much people have heard, and more about what they have heard.
According to the new semi-annual report from MRC Data, the share of catalog music in total album consumption in the US rose to 66.4% in the six months to the end of June 2021 (with "catalog" reflecting all releases that were made more than 18 months prior to a consumer purchase published and / or press playback).
That 66.4% value increased from 63.9% in the first six months of 2020 and from 60.8% in the first six months of 2018 according to previous reports from MRC Data / Nielsen Music.
A quick explanation: The MRC "Total Album Consumption" metric bundles physical and digital album sales with single track downloads and streams, with these single track downloads and streams being converted into "album equivalent" units. To achieve this, MRC converts all 1,250 premium streams or 3,750 ad-supported streams of tracks on an album into a single "sale" for that LP. The same goes for all 10 downloads of tracks from a single album. This formula is designed to be "revenue driven" – for example, with 1,250 premium streams that generate roughly the same amount of money as a single album. The "total album consumption" does not take into account digital or terrestrial radio plays.
Conversely, the percentage of total album consumption that is used by "current" music – that is, music that was released within the last 18 months after a consumer bought it and / or pressed play – decreases.
According to the report by MRC Data, "current" music made up only 33.6% of total consumption in the first half of 2021, compared to 36.1% in the first half of 2020.
What it really means is that of the 434.7 million "equivalent" album sales in the United States in the first half of this year, approximately 288.6 million were catalog records.
That is almost double the number of album equivalent units accumulated by "current" music over the period (146.1 million).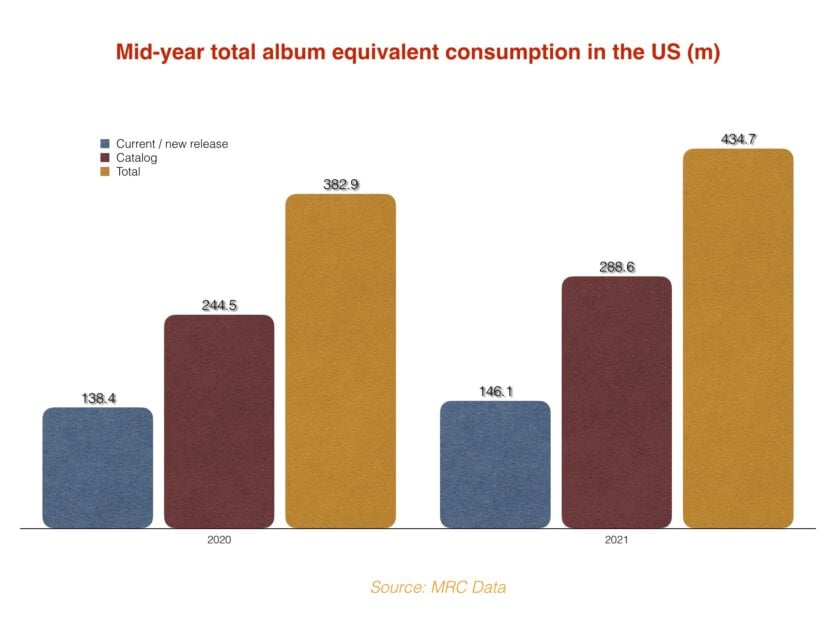 A look at the growth patterns of "catalog" and "current" music sharpens the story of the catalog's flourishing dominance.
According to MBW's analysis of the MRC report, album-equivalent consumption of catalog music increased by 44.1 million units year-on-year in the first half of 2021 compared to the first half of 2020.
"Current" music saw growth of just 7.7 million units year over year.
Fun exercise for you: what if this pattern (+44.1 million per year for 'catalog', +7.7 million for 'current') continues for the next nine years?
Well, in the first half of 2030 that would mean "catalog" music had 685.5 million equivalent units, but "current" music had only 215.4 million.
In other words, in this extrapolated scenario, "catalog" music would have a market share of 76%. "Current" music would only weigh a mere 24% – less than a quarter of the market.
Before we jump to conclusions, let's see how the rest of 2021 unfolds: From Adele to Coldplay, Ed Sheeran, Drake and Rihanna, some of the world's biggest megastars could still release new albums by the end of this year, which could help change the current commercial route of 'current' and 'catalog' music.
According to the MRC Data report, Morgan Wallen's Dangerous: The Double Album was the biggest album in the United States for the first six months of this year. A total of 2.108 million album consumption units and 2.315 billion audio streams were recorded in the reporting period.
The biggest single track during this period was Olivia Rodrigo's driver's license, which had 460.2 million audio streams when it was released in January.Music business worldwide